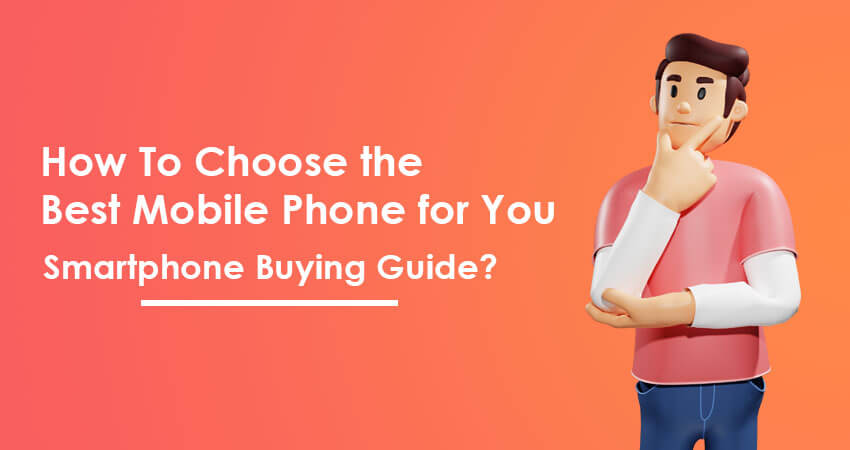 How To Choose the Best Mobile Phone for You - Smartphone Buying Guide?
Undeniably, Mobile Phones have become a part and parcel of our lives. Not only it holds a lot of our personal information but it also plays a vital part in keeping our professional life up to date. Maybe these could be possible reasons behind uprising or escalating popularity of mobile phones. Millions of users and thousands of expectations pop up before buying a phone and so it is a fact that there are certain important factors that one should take into consideration before choosing a mobile phone.
As a user you might wonder, whether you should buy an old cell phone or popularly known as second hand phone. But, don't panic as many times you do get the best price resale old mobile phone, as it efficient and reliable. Here in this blog, you would get to read and find out more about the important factors to consider before choosing best mobile phone for you. Have a look to know more!
Important Tips to remember before buying a smartphone
There are certain important factors that one should remember, and few of them are explained below:
First of all, you must choose your price range
In the beginning, you are expected to determine and find out what is your budget exactly? How much can you spend? Once you decide the price range, you will be able to prepare a list of methods that might be helpful for you.
You can prefer second hand over a new one
In case, you do not have a huge budget, you can also prefer to sell old smartphones and get a new one or you can simply decide to buy an old smartphone which suits your budget and is in decent condition. Sometimes, preferring the second-hand phones are better than buying a new one.
Find out the features
First of all, you must try to create a list of important features and you surely need on your phone. Create a list of smartphones that has the feature that you have been seeking for. Do you need a phone with huge storage? Do you want a phone which has great camera quality? Do you seek for a phone which has best sound quality? No matter whatever your requirement is, you must make a list of it and so you will be able to seek a phone of your choice.
Overview of your phone
Certain factors like design, screen, performance, operating system and camera must fulfil your expectations. Along with these factors, you must also keep in mind regarding the battery life of your phone as if it is not great, you might have to witness a lot of unavoidable issues. Apart from that, the storage and durability play a vital part too.
One can surely read this blog to develop an in-depth understanding and knowledge about the factors to consider before choosing the best cell phone for you.