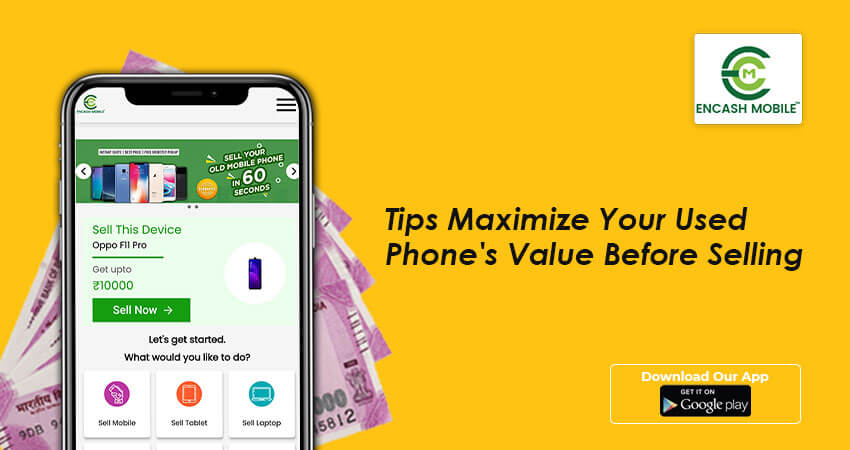 Tips To Maximize Your Used Phone's Value Before Selling
If you decide to sell your phone in Bangalore at some point, keeping its value is a primary concern. Here are the top ways to boost your phone's resale value.
When the time comes to sell old smartphone in Bangalore, you want to make sure you get the best price for your old phone. We at Encash Mobile offers best accurate price for your old device. We deal in all kind of devices including mobile phones, tablets, laptops & smart watches and much more.
The condition of your phone can make the difference between getting great price, depending on how it looks physically. With this in mind, the way you treat your phone really can affect its value. So what can you do to increase the value of your old phone? Here's steps you can take to Maximize Your Used Phone's Value Before Selling.
1. Keep phone It in Good Condition
Keeping your phone in good shape at all times, if you want it to get best price for your old phone. We say "good condition" since this is one of the factors buyers would use to judge and value your handset
2. Invest in a Good Quality Phone Case
To maintain the good condition of your phone and ensure it is free of scratched, nicks, and dents, you should buy a well-made case to protect the sides, rear, and front of your phone. To do that, you should buy get one that covers your entire phone.
3. Buy a Screen Protector
Scratching or chipping the screen of your phone is lose value in your phone, To protect this, you should invest in a screen protector. A tempered glass screen protector. The screen can hold up to 70% of a handset's value. As technology advances, phone screens become harder and therefore more expensive to replace, particularly OLED screens in mobile phones. It makes sense to keep the screen in excellent condition.
4. Use a Genuine Charger and Lead
If you want to retain the worth of your phone, you should stick to Genuine Charger and Lead equipment. If the charging cable doesn't have good-quality electrical connection, then it can damage your charging port, rendering your phone faulty and, therefore, less valuable at Buyers'.
5. Unlock Your Phone Before You Sell It
By unlocking your phone so that it can immediately be used with any carrier that buyers are signed up with, you'll easily increase the number of potential buyers for your used smartphone.
Conclusion
When you wish to sell phone online Bangalore, you can take advantage of the fact that companies like Encash Mobile will give you the best price, based on the condition of your phone. Just remember; Good Condition = Best Price. That way, you'll never go wrong when it comes to phone selling time.
Tags: online sell old laptop in Bangalore, sell used mobile phone Bangalore, sell used laptop online in Bangalore, sell mobile phone, sell old Used smartphone